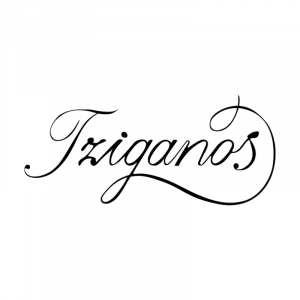 Tziganos - Italian & Spanish Restaurant
About Us
The name Tziganos translates to "wandering gipsy", which reflects the theme of our restaurant. Like the wandering Tziganos, with a menu consisting of a wide range of dishes from all corners of the Mediterranean, including tapas, homemade pizzas, and a selection of fresh fish and meat from our handmade charcoal grill. Just the spot to try any specialities or beautifully prepared traditional, Mediterranean favourites and you will not be disappointed. Kick back and unwind with one of our hand-crafted cocktails or carefully chosen wines and let us guide you through the sensational flavours of the Mediterranean.
Cuisines
Italian, Spanish, Mediterranean
Restaurant Type
Casual Dining, Family Style, Pizzeria
Cuisine Styles
Vegetarian, Vegan, Gluten Free, Seafood
Services
Free Wi-Fi, Takeaway, Delivery, Private Dining, Events, Private Events, Air-Conditioning
Payment Options
Cash, Visa, American Express, Mastercard, Apple Pay, Google Pay
Menu
Beef meatballs
in tomato sauce with toasted focaccia
£8.95
Chorizo al vino
with Alubia beans with toasted focaccia (GF without focaccia)
£8.25
Costillas
slow cooked bbq pork ribs
£8.00
Pan Fried
Panko Breaded Pork Collar Steak
£8.25
Pulled beef empanadas
with chillies, spring onion and tomato salsa
£7.50
Guanciale
slow cooked ox cheeks on Mac and cheese
£8.25
Jamon croquettes
Serrano croquettes with smoked paprika aioli
£7.25
Caserola de Salchicha
lentil, roasted cherry tomatoes and chorizo served with toasted focaccia (GF without focaccia)
£7.50
Alita de Pollo picante
cajùn chicken wings served with blue cheese sauce
£7.95
Gambas al ajillo
with toasted focaccia (GF without focaccia)
£9.75
Pulpo (octopus tentacle)
potato, cannellini beans, tomato sauce
£14.50
Bianchetti
white bait, breaded and deep-fried with aioli sauce
£6.50
Anchoas Blancos
white anchovies marinated in olive oil, vinegar & lemon
£6.25
Salmon frito
salmon, courgettes, steamed barlotti beans served with toasted focaccia
£9.25
Squid & Garbanzos
Garbanzos, chipirones served with chickpeas in white wine sauce, served with toasted focaccia (GF without focaccia)
£9.25
Buffalo salad
heirloom tomatoes, basil, parmesan, pesto, buffalo mozzarella, mozzarella, truffle honey
£9.25
Arancini
Mozzarella and Basil Pesto Arancini, sun blushed tomato salsa
£6.50
Patata Brava
With tomato salsa and Aioli
£6.00
Manchego Panko crusted
£7.25
Bruschetta
vine Cherry tomato, garlic, basil, and evo oil
£6.50
Crocchette ai Porcini
croquettes with porcini mushrooms
£7.25
Aubergine Parmigiana
sicilian-style lasagne with aubergines, fresh tomatoes, basil, and topped with mozzarella
£6.25
Meat and cheese platter
(Spanish & Italian cured meats and cheeses) served with home made focaccia
£19.95
Pan al Ajillo
Rosemary, Garlic
with mozzarella £7.25
£6.50
Vegetable and cheese platter
(Spanish and Italians cheeses and seasonal grilled vegetables) served with home made focaccia
£17.95
Pan Cebolla & Chorizo
Garlic Oil, Mozzarella, Caramelised Onion, Chorizo
£8.20
Tagliatelle ai Porcini
Porcini mushrooms, cream, parmesan
from £9.25
Gnocchi alla Norma
Homemade tomato sauce, aubergine, basil, garnished with salted ricotta (vegetarian and vegan without ricotta)
from £9.25
Spaghetti ai Gamberi
King prawns, chilli, garlic, cherry tomato, parsley
from £10.95
Linguine Meatballs
Homemade polpette with mushrooms, cream, parmesan
from £9.25
Spaghetti Carbonara
Pancetta, eggs, parmesan, black pepper
from £9.25
Paccheri Pesto e Gorgonzola
Paccheri pasta, homemade pesto, and creamy gorgonzola topped with parmesan
from £9.25
Homemade raviolo
Filled with aubergines and smoked scamorza served with nduja sauce
from £9.25
Bufalina
vine cherry tomato, buffalo mozzarella, fresh basil, Evo oil
£9.25
Tziganos
tomato, Italian sausages, chorizo, red onion, peppers, mozzarella, jalapeño
£10.25
N'duja
Spicy chilli pate, spicy salami dopo spicy chilli pate, fried aubergine topped with burrata cheese
£11.50
Gamberi
tomato sauce, garlic prawns, roasted peppers, chili, roasted cherry tomatoes
£10.95
Prosciutto
tomato sauce, ham, mushrooms, black olives, artichokes
£10.50
Queso de Capra
tomato sauce, mozzarella, goat cheese, peppers, black olives, chilli
£10.25
Alcachofa
artichokes cream, buffalo mozzarella, parma ham, truffle oil
£11.50
Funghi
Porcini mushrooms cream, grilled chicken, roasted peppers, fresh mozzarella
£11.50
Chocolate profiteroles
Homemade sweet choux pastry filled with cream, and covered with chocolate mousse
£5.50
Churros
Spanish doughnut or cruller homemade from deep-fried unsweetened dough, and sprinkled with sugar, served with chocolate ice cream
£5.50
Tiramisù
An elegant and rich layered Italian dessert made with delicate ladyfinger cookies, espresso, mascarpone cheese, eggs, sugar, amaretto, and cocoa powder
£5.50
See the board or ask about our cocktail of the week
Americano
Campari, Sweet Vermouth, Soda
£10.00
Mint Smash (choose Vodka or Gin)
Lime, Mint, Citrus, Syrup
£10.00
Rum Burn
White Rum, Pineapple Suryp, Thai Chilly, Lime
£10.00
Pimm's Cup
Pimm's No.1, Lemonade, Fruit
£9.00
Aperol Spritz
Aperol, Prosecco, Soda, Orange
£10.00
Honey Manhattan
Bourbon, Sweet Vermouth, Bitters, Honey
£10.00
New York Sour
Bourbon, Syrup, Citrus, Red Wine Float
£10.00
El Diablo
Tequila, Creme de Cassis, Lime, Ginger Beer, Lemonade
£10.00
Sex On The Heath
Vodka, Peach Schnapps, Cranberry, Lime
£10.00
Pina Colada
Rum, Pineapple, Coconut Cream
£10.00
Passionfruit Daiquiri
£10.00
Pornstar Martini
Vanilla Vodka, Passoa, Passionfruit Purea, Syrup
£10.00
Fruit Juices
Orange, Apple, Passion Fruit, Cranberry, Pineapple
£2.95
Coke / Diet Coke / Lemonade
£3.00
Mediterranean Tonic
£2.10
Classic Espresso Martini
£11.00
Salted Caramel Espresso Martini
Espresso, Vodka, Salted Caramel Kahlua
£11.00
Tirama-Tini
Rum, Baileys, Coffee Liqueur, Espresso, Chocolate Syrup
£11.00
Lemon Cheesecake
Vodka, Limoncello, Lemon, Cream, Syrup
£11.00
Verdicchio dei Castelli di Jesi, Monte Schiavo
Italy
An invigorating wine with great diversity of fruit, including lemon, pineapple, and lime along with ripe apricot notes. The finish has an interesting bitter almond streak.
from £8.50
Mozzafiato Falanghina
Italy
Light straw yellow with greenish reflections. It is fresh and fruity to the nose with notes of citrus, pineapple, and white flowers. To the palate it is very fresh thanks to a strong acidity in balance with the wine's structure.
from £7.00
Nero Oro Grillo Appassimento
Italy
Grillo is a wonderfully aromatic and distinctly Italian white grape. Honeyed and full of dried-fruit notes, this has the fresh zing of grapefruit.
from £8.00
Marqués del Puente Nuevo Sauvignon Blanc, Airen
Spain
A blend of Sauvignon Blanc, Airén, flavours of white peach, elderflower and lime, fresh and well balanced wine.
from £5.50
Teixadal Treixadura
Spain
Refreshing Treixadura grapes lend plenty of nectarine and citrus fruit aromas and – because the wine has been rested on its lees for a while before bottling satisfying complexity too.
£30.00
Rioja Blanco, Muga
Spain
Complex and toasted aromas with fresh, vibrant fruits give way to zesty lime, spicy, and vanillin-toasted oak flavors, fresh acidity, and a refreshing spicy finish.
£38.00
Bel Canto Pinot Grigio Rosé
Italy
soft pink in colour with a purplish hue. a balanced wine with fresh and pleasant notes of cherry red fruit and slightly ripe forest fruit.
from £6.50
Bardolino Chiaretto Rosé Chapter Series
Italy
it is a fresh, elegant pink wine with a delicate aroma of cherries and hints of wild berries, mellow yet refreshing.
from £7.20
Rioja Rosado, Muga
Spain
Deep salmon colour, with intensely fresh, strawberry, raspberry and orange peel aromas, plenty of warm, spicy fruit with crisp acidity.
£33.00
Quid Pro Quo Malbec
Argentina
Elegantly structured, rich, showing plummy fruit and hints of smoke and chocolate.
from £9.00
Conde De Castile Joven, Rioja
Spain
Polished and fruity in style, with redcurrant and strawberry flavours. Overtones of subtle spice and vanilla.
from £7.50
Gufetto Montepulciano
Italy
Intense ruby red in colour, with violet hues. There are notes of cherry, blackberry, and a hint of green pepper. The wine is medium bodied, slightly tannic, and persistent.
from £7.00
Wisdom Tree Dao
Portugal
Delightfully soft and rounded, this wine is full of plum and bramble flavors with touches of herbs and a slight spiciness to the finish.
from £7.90
Languore Sangiovese
Italy
Intense ruby red in colour with typical scents of ripe cherry and raspberry. It is medium bodied, juicy, fresh, and persistent.
from £6.00
Apericena Appassimento
Italy
Intense red in colour, with a complex bouquet reminiscent of cherries, raspberries, and redcurrants. Layers upon layers of dark fruit, fine tannins, and a long and lingering finish.
£30.00
Rioja Reserva, Marqués de Riscal
Spain
Full-bodied and muscular, yet smoothly polished and embellished with complex aromas of vanilla and toasted oak, combined with summer fruit flavours.
£40.00
Bardos Crianza Ribera del Duero
Spain
Hand harvested from old, low-yielding Tempranillo vineyards, the Bardos Crianza is a complex and aromatic Ribera del Duero. Remarkably fresh on the nose, it has bright red fruit and spice notes from 14 months in the barrel. These red fruit aromas continue onto a palate of dark cherry and briar fruit, velvet tannins and complex, spicy finish.
£43.00
Bel Canto Prosecco DOC
Italy
Delicate and aromatic with fine bubbles. This wine
carries lots of fresh peach, pear, and an elegant zest
from £6.00
Paul Drouet Brut NV
Champagne
Apple and brioche lead the way in this medium bodied, fruity and classically biscuity style of Champagne.
from £9.50
Freixenet Cordon Negra Cava
Spain
Made with the same technique as Champagne, it's a crisp, clean palate of apple, pear, lemon, and ginger.
£30.00
Vilarnau Brut Gold Organic Cava
Champagne
Vilarnau Gold Edition bursts with complex aromas of green apple, pear and subtle notes of elderflower. Full bodied, beautifully balanced and with a long stream of fine, persistent bubbles, Vilarnau Gold is perfect for tasting all life's little moments of celebration.
£44.00
Veuve Clicquot Brut NV
Champagne
Aged for twice as long as is legally required and made from grapes plucked from the finest vineyards, it's as biscuity rich as they come.
£95.00
Laurent-Perrier Rosé NV
Champagne
Unusually made by the saignee method, with plenty of stylish strawberry fruit, full of vivacity and easy drinking charm. A wonderfully refreshing aperitif, it also works well with a variety of dishes.
£120.00
Estrella Galicia
from £3.75
Estrella 0% Alcohol Free
£4.50
Peroni Nastro Azzuro
£4.50
Cider Lime & Strawberry & Apple
£6.50
Jack Daniel's
(honey version available)
£5.00
Christmas Party Menu
The Christmas Party menu is valid from the 15th of November to the 24th of December.
BOOKINGS ARE REQUIRED
2 Courses £27.95 | 3 Courses £33.95
in tomato sauce with toasted focaccia
with Alubia beans with toasted focaccia (GF without focaccia)
Costillas
slow cooked bbq pork ribs
Pan Fried
Panko Breaded Pork Collar Steak
Alita de Pollo picante
cajùn chicken wings served with blue cheese sauce
heirloom tomatoes, basil, parmesan, pesto, buffalo mozzarella
Patata Brava
With tomato salsa and Aioli
Tortilla Española
Manchego Panko crusted
Bruschetta
vine Cherry tomato, garlic, basil, and evo oil
Chickpea chips
with toasted focaccia (GF without focaccia)
white bait, breaded and deep-fried with aioli sauce
Anchoas Blancos
white anchovies marinated in olive oil, vinegar & lemon
salmon, courgettes, steamed barlotti beans served with toasted focaccia
Garbanzos, chipirones served with chickpeas in white wine sauce, served with toasted focaccia (GF without focaccia)
Served with roast potatoes, carrots, parsnips Yorkshire pudding, gravy and cranberry sauce
Traditional Italian Cannelloni
Home made tube pasta filled with bechamel sauce spinach and grated Parmesan cheese
filled with porcini mushrooms cream, mozzarella & ricotta topped with rocket and serrano ham
traditionally rice cooked alongside tiger Prawns, calamari, mussels, peppers and peas
An elegant and rich layered Italian dessert made with delicate ladyfinger cookies, espresso, mascarpone cheese, eggs, sugar, amaretto, and cocoa powder
Spanish doughnut or cruller homemade from deep-fried unsweetened dough, and sprinkled with sugar, served with chocolate ice cream
Traditional Christmas pudding
Map & Contacts
Address
17 Montpelier Vale, Blackheath
London, SE3 0TA